By Jonathan Kuttab, February 19, 2022
Yesterday, along with Professor Eddy Kaufman, I had breakfast with Professor Nemi Ashkar (to my left) and Riad Ghantous (to his left). Ashkar is the chairman of the Iqrit Community Association, and Ghantous is from Bir'im and active in efforts on behalf of the village.
Iqrit and Bir'im are two Christian villages in the North of Israel.
Shortly after the creation of the State of Israel in 1948, the new Israeli Army entered the two villages–which had taken no part in the fighting–and asked the villagers to evacuate to nearby villages for a short period, not exceeding two weeks. They gave the villagers a written undertaking that they could return within two weeks; however, the army reneged.
After three months, the villagers realized they had been tricked and appealed to the Isareli High Court, which ordered the Isareli Army to allow them to return. On the appointed date, however, the Israeli airforce attacked the two villages and destroyed every house in both of them, except for the churches.
Since that time, and for the last 70 years, the villagers and their descendants, have waged a continual, peaceful campaign to be allowed to return to their villages. Thus far they have been without any success. The villagers even agreed to allowing the nearby kibbutz and the Israel Lands Authority to keep the bulk of their lands, if only they could be allowed to return and rebuild their villages.
The villagers, all of them Israeli citizens and internally displaced, still maintain the churches and the graveyards in each village. They even conduct services there each Christmas, but are not allowed to return to, live in, or repair their homes.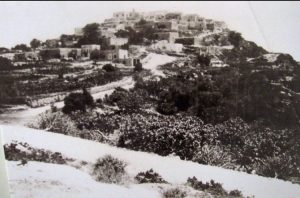 Pre-1948. From Palestine Remembered.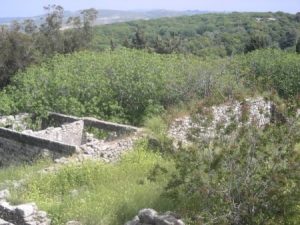 Bir'im remains.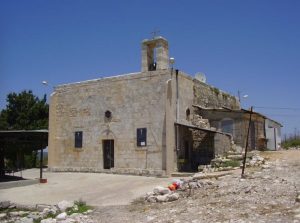 Each year, politicians (including even Menahim Begin at one time and some right wing politicians) set up committees and promise to allow the villagers to return, but so far with no success. Theirs is the story of an ongoing Nakba and of a constant, ongoing struggle.
I pledged that we would support them in their struggle, and I invited them to send us materials and specific action items that we could undertake on their behalf.
Photo: Jonathan Kuttab, Professor Nemi Ashkar (to my left) and Riad Ghantous (to his left)