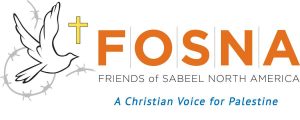 FOSNA Board Announces New Executive Director
July 22, 2021
The Board of Friends of Sabeel North America is delighted to announce that Mr. Jonathan Kuttab, Esq, has agreed to serve as FOSNA's new Executive Director.  Jonathan is a renown Palestinian human rights lawyer who has devoted his career to promoting a just peace in Palestine/Israel.  His most recent book, "Beyond the Two-State Solution," is an important contribution for those seeking a just outcome for all the peoples of the Holy Land, Palestinians and Israelis alike, whether Jewish, Muslim or Christian.
Jonathan has a long history of working for human rights.  He cofounded the first Palestinian Human Rights organization, Al Haq, as well as the Mandela Institute for Political Prisoners, as well as the international HURIDOCS organization for documenting systems of Human Rights violations.  He is also an active practitioner of Nonviolence, having cofounded the Palestinian Center for the Study of Nonviolence, and Nonviolence International.
Jonathan will begin his work with FOSNA on August 1 and you will be hearing from him directly very soon.  He is a co-founder of Sabeel and served on its Board for many years. During the search process, we appreciated the wise counsel of Sabeel's revered founder, Canon Naim Ateek, and Mr. Omar Haramy, Executive Director of Sabeel.
The FOSNA Board and Jonathan are committed to working closely with Sabeel, located in Jerusalem and Nazareth, while also continuing our work among Palestinian solidarity groups and churches in the United States.  Because United States policy directly impacts and impedes a just solution to the Palestinian/Israeli conflict, Jonathan and the Board will intentionally add another committed Christian voice to the corridors of power in Washington, DC.
FOSNA founded the Seminary and Clergy Action Council, and Jonathan has noted the importance of this group in promoting Sabeel's theology of liberation among our seminaries and churches which undergirds the mission of Sabeel and FOSNA.  He will also engage FOSNA's PIN Leadership Team and meet with local FOSNA Chapters around the United States.
Jonathan presently lives in Lancaster, Pennsylvania, but regularly visits his home in East Jerusalem where he maintains a law practice. He is a member of the Bar of New York, Israel, and Palestine.  He is a sought-after speaker by many organizations interested in peacemaking in Palestine/Israel. Among Jonathan's passions is countering the false theology and destructive political impact of Christian Zionism and assisting evangelicals and other Christians to find a relevant theology that addresses the concerns of people in the present context of Israel/Palestine.
Those who have a long interest in non-violent peacemaking in Palestine/Israel may recall Jonathan's frequent appearances in the early 1990s when he was a regular guest on US media, including CNN, ABC, CBS, and the PBS Newshour during the peace negotiations that culminated in the Oslo Accords.  Jonathan was the head of the Legal Committee negotiating the Cairo Agreement of 1994 between Israel and the PLO as part of the Oslo process.
The Board of FOSNA looks forward to the coming months under the leadership of Jonathan Kuttab and hopes for many opportunities for all our members, congregants and community friends to meet him as he brings his creative talents to the work of a just peace in the Holy Land.  Stay tuned!
The Reverend Joe Roos, Mennonite and The Reverend Canon Brian Grieves, Episcopal Church, Co-Chairs